Pumpkin Pie Coffee
It's here! People have been begging us to bring Pumpkin Pie Coffee back, and we're so happy we can offer it again now that it's finally Autumn!
We freely admit to having a serious weakness for autumn baking. Pie, in particular, holds a special place in our heart and on our table. In fact, one Thanksgiving at Len's place, the pies outnumbered the people! (Ah, that was a good year...)
Our luscious Pumpkin Pie coffee is an all-natural seasonal blend with real pumpkin and fresh gourmet Penzey's spices.
The coffee is Brazilian 'Adrano' Arabica Dark Roast for its sweet, buttery character, blended with our fabulous Costa Rica Nectar in a light roast for its brown sugar and caramel notes. The Pumpkin Pie flavor comes from real, whole spices: cinnamon, allspice, ginger, vanilla, and nutmeg, with real pumpkin powder. Try it with milk and sugar to get the most authentic "pie" experience, or even sweetened condensed milk (like many people use in Pumpkin Pie).
Available for a limited time only, and in limited quantities. Drip grind only. Last of the lot on sale now until supplies are gone! Won't be back till next Fall.
Latest Blog Post
We can't stop drinking these! The Happy Place Cascara-Hibiscus Blend is astounding hot plain or as a latte, 50/50 with milk. And the new Saigon Legend: Civet Edition is our "Magnum Opus" for 2017. Read more...
Resources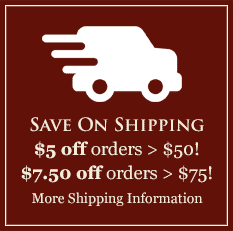 Featured Region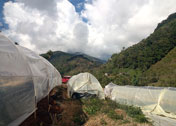 Costa Rica's Dota Tarrazu Region
"Tarrazu", like Champagne, is a restricted term that can only apply to the highly-prized coffees grown in one small mountainous region. With your help and ours, our Tarrazu coffee farmer is expanding his farm to the great benefit of the local people, the environment, and the coffee species. Learn more and browse our Costa Rica Dota Tarrazu coffees here.