G7 Instant Cappuccino
Flavored G7 in a larger packet size with more creamer to produce a rich, creamy, satisfying cappuccino with a layer of froth on top. This is a really special drink unlike anything we've ever tried. The packet size makes a slightly larger cup of coffee than the regular G7. The flavors are pleasant but not overpowering, with less sugar and less fat than other cappuccino mixes, so it's healthier, too.
Hazelnut Cappuccino is rich and satisfying, with a uniquely "tropical" take on traditional Hazelnut.
Mocha Cappuccino is lightly enhanced with cocoa.
Contains skim milk powder, NOT from China.
More Information
G7 Instant Cappuccino is best made with 7 ounces of hot water. Pour the water in slowly, and stir the mix gently just until it dissolves. A rich head of flavorful foam will rise to the top, just like the frothed milk in a store-bought cappuccino. Enjoy!
The G7 is minimally sweetened, which is perfect for those of us who prefer a lightly sweetened drink or who are watching their sugar; however, some of us like to add extra sweetener. It's easiest to mix the sweetener in with the G7 mix while it's still dry and then add hot water normally.
If you have tried other "dessert" coffee mixes, they cannot compare to Trung Nguyen G7 Cappuccino. The base of gourmet G7, which is the world's taste- and quality-leading instant coffee, makes these drinks superior in taste from the start. The simple recipe is simply delicious and makes an excellent dessert coffee or anytime drink.
The health-conscious will be glad to know that G7 Cappuccino's nutritional profile is far superior to other leading cappucino mixes. When compared to a leading USA brand of gourmet cappuccino mix, G7 Cappuccino contains 30% less fat, 50% less sodium, 50% less sugar, and 60% fewer calories! Yet G7 Cappucino has a rich, indulgent taste, with a wonderful "crema" at the top.
For us, the G7 Cappuccino is key to creating our own coffeeshop experience, allowing us to save both time and money while enjoying a drink that we think is actually superior to most overpriced coffeeshop specialty drinks.
Contains milk.
Customer Reviews
Write Review
Perfect Capp of my day

This cappuccino instant is premium quality and a delicious treat almost anytime of day. I love it with a dark chocolate or extra sweet brownie on the side. Enjoy!!

Posted by Derek on Feb 27th 2023

Tasty

The Mocha one is really good, not very strong, but solid flavor.

Posted by Al on May 6th 2021

The most awesome and delicious coffee I ever drink.

This is the best coffee I ever drink my whole family love it and now we are hooked for good. Besrick

Posted by Besrick White on Jun 11th 2018

G7 Instant Cappuccino

This product, both flavors are just incredible. I have ordered it on and off for several years. I use the G7 3in1 as my normal day to day and this one for special treat. It is a tad more expensive than the 3in1 due to the fact that it does not sell as widely so their profit margin is about paper thin to start with so no large batch price like I can get on the 3in1 but I can promise you that you will NOT be disappointed with it.

Posted by Rp Miller on Jan 8th 2018

Excellent cappuccinos!

I was introduced to the G7 instant cappuccino (both Mocha and Hazelnut) when I tried the Instant Coffee Mini-Entertainer. The main reason I ordered the kit was to be able experience some the products offered here, and these cappuccinos didn't disappoint!

Is impressive how a small package can contain such a nice cappuccino and after preparing the, which is a very simple process, they do look like it was made by a barista.

Both flavors are delicious and subtle, but Hazelnut is my personal favorite. I highly recommend to try both of them.

Posted by Jose I Alvarado Zayas on Mar 21st 2017

Nice treat

I bought this on a whim, having had it in mixed selections before. Same high quality as other G7 products (I haven't found one I didn't like!). I know I should be satisfied with one 7 oz serving, but it simply tastes like more, maybe 2 or 3?

Posted by Cindy Reid on Oct 28th 2016
Latest Blog Post
These volcanic soil coffees are delicious and diverse... Read more...
Resources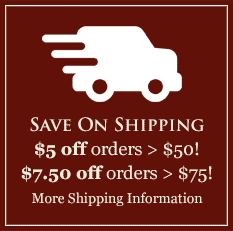 Featured Region
The Araku Valley of India
India's coffee tradition goes back 400 years or more, when a variety called Kent was first established in the Southern Hills. Arabicas predominated until the blight of 1870, when growers needed to hybridize to resistant varieties. The resultant strains had genes from Liberica and other unique, resistant species. Learn more and browse India's Araku Valley coffees here.