The Saigon Blend Essential Collection - Free Shipping
The Saigon Blend Essential Collection - Free Shipping
Our Saigon Blends deliver quintessential Vietnamese flavor, fresh-roasted right here in the USA, so we never run out of the goodness. This Essential collection includes our five top-selling Saigon Blends. Enjoy comparing these different bean varieties and blends and pick your favorite (or love them all!).
Saigon Tradition - Vietnamese Highland Robusta Blend with a small amount of Blue Son La Bourbon Arabica for extraordinary balanced Robusta taste with full palate appeal.
Saigon Market Blend - A Vietnamese favorite, 50/50 blend of Arabica and Robusta... buttery, rich, chocolatey
Saigon Lam Dong Blend - 100% Arabicas, from Vietnam and other award-winning Arabicas
Saigon Café Blend - Quintessential 4 species blend of Vietnamese Robusta, Arabica, Excelsa and Catimor. Artful balance, depth and complexity.
Saigon Legend - Our top-of-the-line multi-species blend featuring Arabica, Robusta and Excelsa, balanced to simulate the taste profile of Kopi Luwak coffee.
We created the Saigon Blends line for several reasons... First, to have total control over the taste and consistency and grind, and Second, to help us mitigate shortages when we sell out of Trung Nguyen products. We have been the face of Vietnamese coffee in the USA since 2005, carrying Vietnam's top lines, and have been privy to all their expertise. We have used this advantage to create a genuine line of superior Vietnamese-style coffee, with the signature chocolatey butter-roast taste in a dry format and superior grind for the phin, pourover and French Press.
Please specify whole bean or ground, each full bag is 8 ounces, save $2 on a total of 2.5 pounds of amazing gourmet coffee and get FREE SHIPPING anywhere in the USA and US territorieson this product. If you add other products to your oder that are not free shipping deals we will only charge postage on those other items.
Not available for Canada, sorry. The shipping to Canada for this box is ~$43. We have to pay USPS and Canada Post both. Please do not put this product in your cart if shipping to Canada. We will charge a $5 service fee to refund your order.
Latest Blog Post
We're doing everything we can to help! Read more...
Resources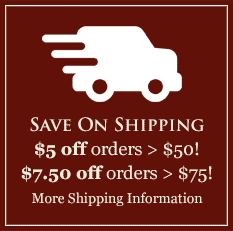 Featured Region
Brazil's Poços de Caldas
There is no other terroir in the world similar to the unique microclimate of Poços de Caldas, which is angled perfectly toward the sun. Poços de Caldas receives sharply divided day and night periods that begin with early morning sun full-on till 4 pm. The soil is enriched by volcanic minerals and rainforest humus. Learn more and browse Brazilian Volcano Coffees here.