Vietnamese Traditional "Phin" Coffee Brewer, Multi-Packs
Vietnamese Traditional "Phin" Coffee Brewer, Multi-Packs
Multi-packs of our wonderful Phin brewers are available. Save money buying more than one!
Stainless steel Vietnamese single-cup brewer (called a Phin), 4 piece kit with instructions. This little filter is perfect for brewing a single cup of intense, delicious coffee in the traditional way (6-7 ounces, typically). When guests visit, give them the authentic coffeehouse experience by using a separate filter and cup for each person and addding sweetened condensed milk. We now offer larger capacity Phins as well.
More Information
The gravity insert filter kit used in Trung Nguyen coffeeshops in Vietnam for Cà phê sua dá (or Cafe sua da). The flavor obtained from these small and inexpensive brewers is incomparable. No paper filters needed, no big machine setup or cleaning needed to brew a simple cup of delicious coffee.
The new stainless steel version has a heavier insert and brews wonderfully. Note: the screw-down style of filter is Chinese-style, but some users prefer it for its finer control. These filters are solidly built and brew a very nice cup of coffee. The Stainless Steel construction lasts for years and stays spotless.
Please keep in mind that the original-size filters brew a single cup of coffee in traditional volume, about 6 ounces of intense brew, generally expected to be sipped. Those are not mug-volume or large quantity brewers. To brew more coffee, use more than one filter or try our large-sized filters. Also see our French Coffee Press or Tea/Coffee Pot brewers.
The 15oz filter is big enough to fill a TALL travel mug with STRONG coffee. That'll get you through your morning commute! You can use it to brew a whole pitcher of iced coffee, too. Simply place it on top of a carafe (preferably insulated) filled with ice and let the brewing coffee drip into the ice. Check out the photos for a general idea of the right size of carafe and amount of ice--it's more an art than a science.
Dimensions:
6oz Phin: Spanner is 3-1/2" wide, chamber interior is 2-5/16" wide, chamber height is 2-1/4"
8oz Phin: Spanner is 3-7/8" wide, chamber interior is 2-5/8" wide, chamber height is 2-1/4"
11oz Phin: Spanner is 4-1/4" wide, chamber interior is 3-1/8", chamber height is 3"
15oz Phin: Spanner is 4.6" wide, chamber is 3.25" high and 3.5" wide. Requires a mug with minimum interior width of 3.25".
All Grade 2 extra-strong stainless steel.
Customer Reviews
Write Review
Great customer service

Have several of these now. They are great for Vietnamese style coffee. Super simple, they just work. Len's has been great to order from. I asked a question and they got back to me right away. Even sent me some spare parts that I needed and I couldn't find anywhere. Rare to find that these days. Definitely would order from them again

Posted by Phil on Nov 2nd 2020

Great Filter

Phin filter is of excellent quality. Works best with Trung Nguyen premium blend coffee from my experience. Very simple and comes with instructions in case the buyer doesn't know how the filter functions. Something to note is that the 8oz filters do brew a slightly smaller amount of coffee I think due to some space being filled in by the coffee grounds; you may want to buy a larger size filter if you desire more overall coffee in cup.

Posted by Fernando Zamora on Sep 25th 2020

Really does make great coffee

Hi watched the video and was sceptical as to whether this Phin filter could do justice to my favourite coffee,Trung Nguyen Creative 3 Arabica Se . OH MY GOODNESS ... yes it can.
A little practice and follow the tips on the video and it is a VERY good way to get a super cup of coffee when travelling.
I went for the larger filter and it only fits on certain cups so if you want a travel filter for unknown cup sizes I recommend going smaller to start. I am super happy with this simple gadget to get my "coffee on" in 2020

Posted by Rachel Ward on Jan 7th 2020

Fun!

Reminds me of our trip to Vietnam

Posted by Sharyn Sawyer on Dec 23rd 2018

Just like in Saigon

I spent a couple weeks in Vietnam in January and came to enjoy their coffee prepared in the traditional Phins.

These work great!

Posted by Unknown on May 10th 2018

Phin Review

I did order multi-pack set of 4 phins. The phins are fine but smaller than others I have ordered previously. I gave 5 stars because there is nothing wrong with them but... I had hoped they would be a bigger size, like one I've had for a few years that was bought elsewhere.

Posted by Unknown on Nov 2nd 2017

My appreciation

I thank you for the product it works very well.

Posted by Carlos Ollison on Apr 16th 2017

Great filters for killer coffee

I recently discovered how awesome Cafe Sua Da is at a local Vietnamese restaurant. As an iced coffee lover/addict, I had to figure out how to make it. A couple minutes of internet research brought me to these filters (and some super easy recipes)

Construction quality is solid, and the gravity filters make a drink just as good as screw type filters, while being quicker/easier to prep and clean. I've made at least a dozen batches in them and I've never had an issue with grounds making their way through. I have a high-quality espresso machine and I've been loving how easy and delicious it is to make Cafe Sua Da with these.

My only criticism is that the 8oz filters only make about 6oz worth of coffee. I personally prefer more, so I found myself topping off this filter. I may replace them with the 11oz version, but ONLY because I'm a heavy coffee drinker. I'm happy with everything else about this product.

Posted by Matt on Sep 29th 2016
Latest Blog Post
We're doing everything we can to help! Read more...
Resources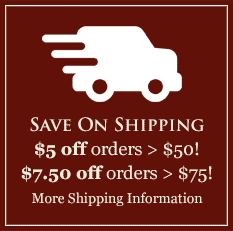 Featured Region
Brazil's Poços de Caldas
There is no other terroir in the world similar to the unique microclimate of Poços de Caldas, which is angled perfectly toward the sun. Poços de Caldas receives sharply divided day and night periods that begin with early morning sun full-on till 4 pm. The soil is enriched by volcanic minerals and rainforest humus. Learn more and browse Brazilian Volcano Coffees here.