G7 3-in-1 Gourmet Instant Coffee
G7 3-in-1 Gourmet Instant Coffee
The original and still the top seller! G7 was the first instant coffee to be extracted directly from the unroasted coffee bean, not from freeze-dried brewed coffee like American brands. It's been the top instant coffee in Asia ever since its creation in 2002. The 3-in-1 version of G7 has coffee, creamer and sugar all in one packet... you just add hot water. The sweetness is about average for most coffee consumers, it is approximately as sweet as two sugar packets. If you would like to add your own cream and/or sugar, consider the G7 Black, which is 100% coffee only.
G7 is shipped in export packaging for three different global regions and domestic packaging for Asia. The product is the same regardless of packaging version. The export product also lists the name of the 3-in-1 as "Coffeemix", which is less confusing for international buyers. (We purchase whichever version is more available and provides the best economy for our customers.)
Contains casein, a milk derivative.
More Information
This is the first true gourmet instant coffee we have tasted. We have compared it to over 30 other popular Asian and USA brands such as Vinacafe, Coffee King, Nescafe, etc., and the G7 is far richer and has the full-bodied flavor that is absent from most instant coffee.
Trung Nguyen commissioned a state-of-the-art Italian-built facility in Buon Me Thuot to process G7 3-in-1 in 2005 and it has been the top Asian "white coffee" since. The reason is simple; it is the only instant coffee in the world that is processed from green, unroasted beans, and is powdered and roasted in the same operation. This process preserves more flavor and results in a smooth and non-bitter coffee. All other manufacturers use brewed coffee that is then freeze-dried in one fashion or another, which creates bitterness.
The G7 has its own unique taste, different from the Trung Nguyen brewed coffees, and fans of G7 will accept no substitute! This is great cup of coffee to bring with you when traveling or when you don't want to brew. All you need is hot water and you can have gourmet coffee anywhere... in your hotel, at breakfast, when camping or on the road traveling, etc.
Many offices and shops offer this coffee as a perk to employees, especially if they don't want to maintain a brewing station. It's the ultimate in convenience. G7 is also available in Black Unsweetened and Cappuccino flavors.
Ingredients, Nutrition, and Allergy Information:
Our non-dairy creamer ingredients do have a small amount of casein, a milk protein. All G7 products are independently tested for safety and purity by third-party labs in Germany and Malaysia, and G7 ingredients NEVER come from China.
The nutrition facts on the box are per 100 grams, not per serving. Here are the per-serving nutrition facts.
Nutrition facts per 16 gram packet:
Calories: 72 (From Fat: 26)
Total Fat: 2.4 grams
Sat. Fat: 2.3 grams
Trans Fat: 0 grams
Cholesterol: 0mg
Sodium: 44mg
Carbohydrates: 12.5g
Dietary Fiber: 0.5 grams
Sugar: 12 grams
Protein: 0g
Customer Reviews
Write Review
Previous | Showing reviews 21-30 of 37 | Next
Best morning coffee

I have been using this product for MANY years and can't even imagine having anything else for my morning coffee. Not even anything from Starbucks or Dutch Bros or any of those.

Posted by RpMiller on Apr 5th 2018

From 5 to 4 stars

Have been enjoying your G7 coffee for several years - and that amounts to a lot of packets! This last order I received has a somewhat bitter taste and I opened several bags to see if there was a difference and all the packets had the same taste. It's as if regular coffee has been over-roasted. Has anyone else advised of a change in the taste?

Posted by Nancy on Apr 2nd 2018

Best instant coffee!

I never liked instant coffee until we tried G-7 several years ago. It's my "go-to" favorite for a caffeine boost. Thanks for a great product!

Posted by VWE on Mar 9th 2018

Favorite Coffee!

I was introduced to G7 in 2006 during a work assignment in Seattle. I have been drinking it ever since! Ordering from Len's Coffee almost that long! Great coffee, great service--what more can anyone ask for?? Thank you!

Posted by JanG on Jan 12th 2018

G7 3in1

A reorder of this product. I have used it for YEARS and would HIGHLY recommend it to anybody. I just about live on this stuff. I am NOT a coffee person normally but I just totally love this G7 3in1 mix.

Posted by Rp Miller on Jan 8th 2018

Addictive

I love the taste and also the fact that everything is all in one. My mother is totally addicted to this coffee.
Thank you!!

Posted by Anita Robbins on Dec 14th 2017

World Best Coffee

Better than Folgers, and any other American Made coffee hands down !

Posted by John Parnell on Nov 3rd 2017

Smooth

If you love smooth coffee, look no more!
Ships fast too!!

Posted by Sandra Anderson on Oct 5th 2017

Nice coffee

Delicious coffee.

Posted by Jiri ireifej on Aug 26th 2017

G7 3in1

I ONLY gave it 5 stars because there is not a choice for 10. LOL I just love this stuff. I have been buying it from Len for years now both on this new site and his old one. I have had NOTHING but great luck with all of it and not even one glitch. I would VERY VERY highly recommend BOTH the company and the 3in1. I have in fact tried a couple other of his regular coffees and they were all quite good but I am just SO into the 3in1 that I don't like wasting my daily caffeine on ANYTHING other than the G7 3in1

I have also tried all three of the Cappiccinos that they have carried, Irish Cream (apparently that one is not available anymore) and both of the other two and they are ALSO totally great but again I am just too in to the 3in1 to want to give up a cup of that for something else. Due to SERIOUS heart problems my doctor does not want me messing with caffeine but somethings are just worth dying for. LOL

Posted by Richard Miller on Jun 18th 2017
Latest Blog Post
We're doing everything we can to help! Read more...
Resources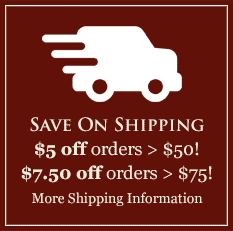 Featured Region
Brazil's Poços de Caldas
There is no other terroir in the world similar to the unique microclimate of Poços de Caldas, which is angled perfectly toward the sun. Poços de Caldas receives sharply divided day and night periods that begin with early morning sun full-on till 4 pm. The soil is enriched by volcanic minerals and rainforest humus. Learn more and browse Brazilian Volcano Coffees here.