Shipping Info
Holiday shipping notes:
We guarantee all USA orders (all 50 states and territories) orders confirmed by December 15th will arrive before Christmas, including those sent by UPS Ground, or you will receive a 50% refund on your order!
For orders traveling to the West Coast by USPS Priority Mail, which is 95% of orders under 8 pounds, the last guaranteed confirmed order date is Dec. 18. For orders East of the Mississippi, the Priority Mail guaranteed date is Dec. 19.
Exceptions: Natural disasters may cause delays beyond Christmas, as in Puerto Rico. We cannot be responsible for delays caused by the vengeance of an angry Earth, or any area declared an emergency zone.
Topics covered on this page:
How Shipping Discounts Work:
If the items in your cart total $50 or above when you check out, you will receive a discount. Shipping Discounts are calculated during the last step of checkout. Until then, shipping will be displayed at the regular price. But don't worry, you will see the discount before you pay.
Where Shipping Discounts Are Displayed:
On the last step of checkout, after you have entered your shipping address but before you make a payment, you will see the discount displayed in your Order Summary. An example screenshot is shown below.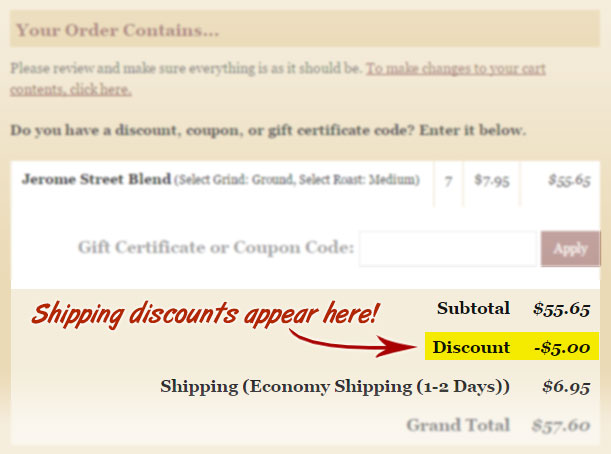 Shipping Times
We ship over 90% of orders by the following business day. Orders placed before noon EST are likely to be shipped that same day. We don't ship on weekends, of course, so note that an order placed on Friday may not ship until the following Monday.
Once your item is in the mail, how long it will take to reach you depends on the shipping method and where you are located. Addresses in the Northeast take 1 or 2 days, whereas addresses on the West Coast take up to 5 business weekdays if the package is large and ships via UPS Ground. Addresses in Canada and outlying US territories also take longer. However, the vast majority of orders will be received in 2 or 3 business days.
Shipping Methods
We use both UPS Ground and USPS Priority for shipping, depending on which is least expensive. Generally, heavier packages ship via UPS and lighter packages ship via USPS Priority.
| | |
| --- | --- |
| | UPS Ground delivers in 1 - 5 business weekdays and does not deliver on Saturdays, so deliveries to the West Coast may take a full week for delivery. We use this method for large, heavy orders ONLY, and only for the contiguous 48 states. |
| | USPS Priority delivers in 1 - 3 days. It's the only method we use for Canada, military bases, and outlying US territories. 90% of all orders ship by USPS Priority. |
If you are placing a large, heavy order, and you wish to purchase a shipping upgrade, you may do so on the first page of checkout (the "Confirm Cart" page). This will guarantee that your order ships USPS Priority. It is probably not necessary, however, if your order weighs less than 5 pounds. Please note: If you must use a PO Box, then you need USPS Priority.
Shipping Prices
There's no such thing as free shipping.
Huge companies like Amazon get discounts from carriers, but smaller companies like us pay the regular "business rate", which is about 10% less than retail. Websites that offer free shipping manage this by budgeting some extra leeway into the price of the product, so you're still paying for shipping, it's just built into the product price.
We're not saying this is a bad thing, it works for Amazon, but it's not for us. The shipping prices you see during checkout here are meant to accurately represent the actual cost of mailing your order to you.
How this is done:
The cost of shipping is calculated twice. Once "by weight" and once "by volume" in order to take advantage of Flat Rate boxes (which cost the same no matter how heavy they are). Then the cheapest of the two options is shown to you. That's why sometimes adding a small item causes a big change in the shipping - it can result in the whole order needing to go into a different box.
Shipping to Canada
We do not have a distributor in Canada, which means your order will ship from Boston, MA. As a result, shipping to Canada must be done by USPS Priority, requires a customs form, and costs USPS International rates. The form takes time and disrupts the shipping process, which can sometimes result in an order taking an extra day to ship.
The price of shipping to Canada is accurately shown in checkout. We wish it were cheaper, but unfortunately it costs us a minimum of $26 to ship an order to Canada!
After that initial $26 price, which is for shipping a single pound, the price goes up about $2.50 per additional pound. As you can see, it is a good idea to place larger orders so you do not have to re-order as frequently, because that saves you money on shipping.
Latest Blog Post
These volcanic soil coffees are delicious and diverse... Read more...
Resources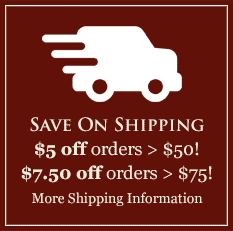 Featured Region
The Araku Valley of India
India's coffee tradition goes back 400 years or more, when a variety called Kent was first established in the Southern Hills. Arabicas predominated until the blight of 1870, when growers needed to hybridize to resistant varieties. The resultant strains had genes from Liberica and other unique, resistant species. Learn more and browse India's Araku Valley coffees here.